Back With Boom: MicroTouch Comes Back With New Image, New Products Lines at VARTECH
---
Back With Boom:
MicroTouch Comes Back With New Image, New Products Lines at VARTECH
MicroTouch participated at VARTECH, October 4th and 5th in Orlando, FL. This annual event, held by BlueStar, our US distributor, brings together suppliers, partners, and Value-Added Resellers (VARs) for a trade show, networking, and team-building activities.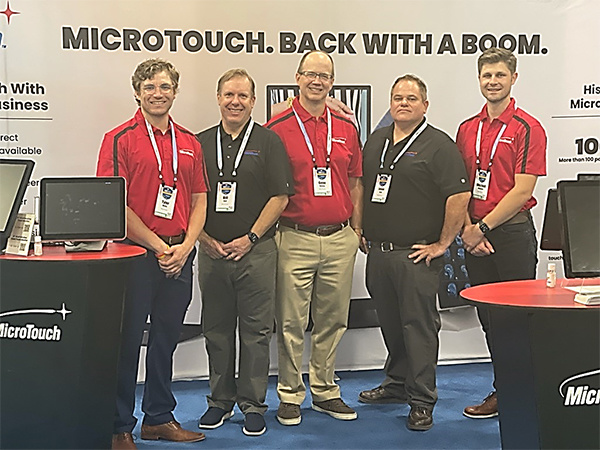 From left to right: Tyler Wells, Bill Nulf, Gene Halsey, Jason Ford, and Mitchell Wandell
At the trade show, MicroTouch introduced their line of touch monitors and all-in-one touch computers featuring industry leading capacitive technology. And they launched their new 15.6" and 21.5" All-in-One touch computer with Windows OS. The team was busy holding in depth product discussions with customers, developed new relationships, and generated sales leads.
The event included a scavenger hunt where resellers took photos with MicroTouch employees to showcase our new All-in-One touch computer with Windows OS. It was a great way to drum up attention and excitement for our new product launch and show attendees we are "back with a boom!"

All in all, it was a successful trade show and networking event for MicroTouch.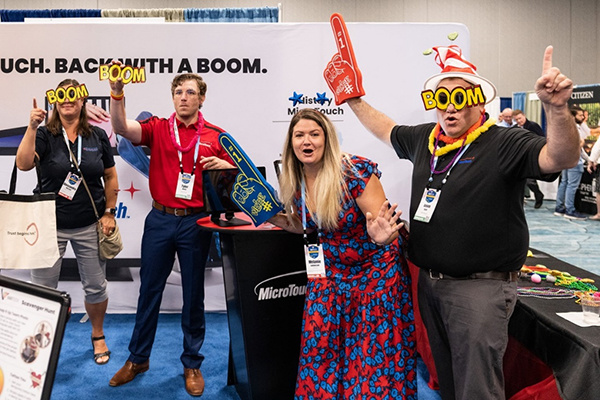 Tyler Wells (in red) and Jason Ford (in black) posing with VARS for the scavenger hunt. VARS came to our booth to take photos with our products and team because MicroTouch is "back with a boom!"