TES Announced HCM-24 True Flat Clinical Review Monitor
---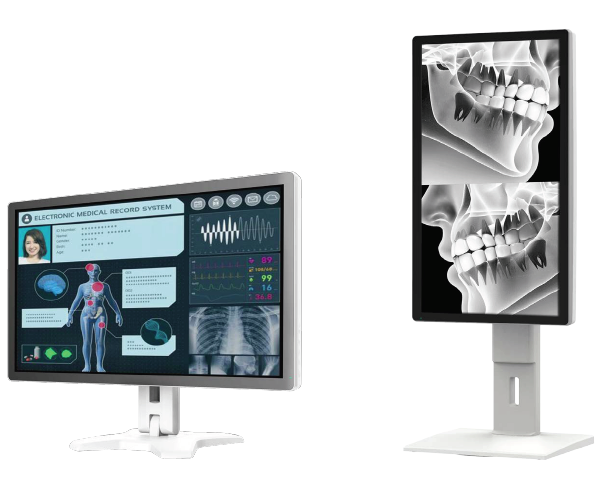 The achievements of medical technology in the 21st century mainly come from the progress of digital revolution and advanced technologies. The new methods to collect, integrate, and use high-quality images and data, assist and improve the accuracy of diagnosis, and reduce the burden on medical professionals.
Medical Displays, among medical equipment, has become the important foundation of the digitalization of the medical industry today.
Combining product design, mechanical and electronic integration capabilities, as well as excellent display color calibration / image optimization capabilities and experience, TES has launched a 24-inch full-plane high-definition touch display designed for the medical industry.

DICOM Certificated Vivid True Color Reproduction
Inside the true-flat 1920x1080 high resolution display, HCM-24 ensures stable and noise-free, high-definition picture quality through electronic circuit design and precise color calibration. Brilliant image reproduction quality and stable functionality make HCM-24 a DICOM certificated medical equipment.
•Prevents signal interference
•Stabilizes power supply with voltage protection
•Reproduces clear and vivid medical images
•Provides true and steady color signals without noise
•Ensures high-precision gray scale levels
Medical monitors provide clear, detailed and accurate images, which are more convenient and reduce costs than traditional X-ray films
About DICOM

DICOM is the international standard (ISO 12052) to communicate and manage medical images and data. Its mission is to ensure the interoperability of systems used to produce, store, share, display, send, query, process, retrieve and print medical images, as well as to manage related workflows.
For medical displays, the DICOM Part 14 imaging standard is widely adopted. DICOM Part 14 is formulated by the National Electrical Manufactures Association (NEMA) and America College of Radiology (ACR), as well as the IEC60601-1-2 4th edition medical equipment electrical standard.
Multifunctional Display with Integration of Optics, Display and Touch Technology
Combined with ergonomic design, optics, and material technology, HCM-24 is equipped with Anti-Glare / Anti-Fingerprint coating surface glass, which not only presents detailed colors and images, but also reduces the interference of environmental light sources and reduces eye fatigue when looking at the screen for a long time.
Meanwhile, the ergonomic multi-function base and VESA mounting holes provide the advantages of mobility and flexibility. HCM-24 is used as a desktop monitor in the offices and clinics of medical institutions, and can also be installed in medical equipment and devices.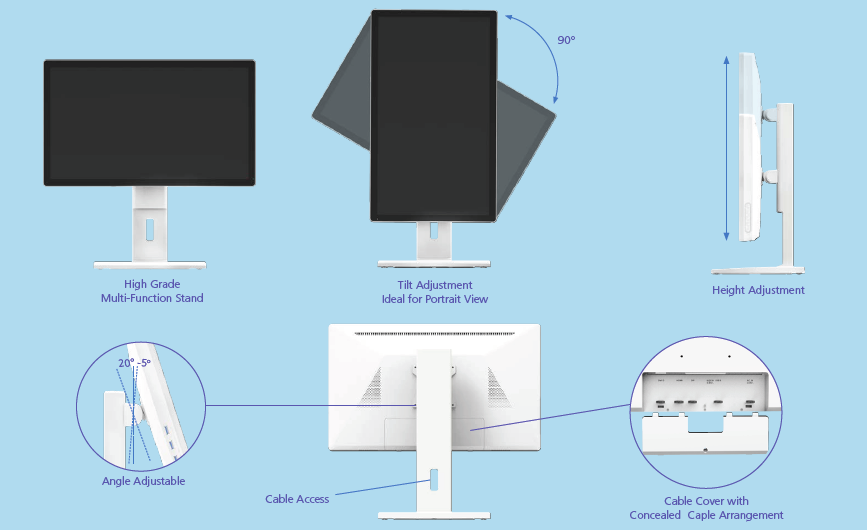 Convenient and ergonomic design of HCM-24
Design for Integration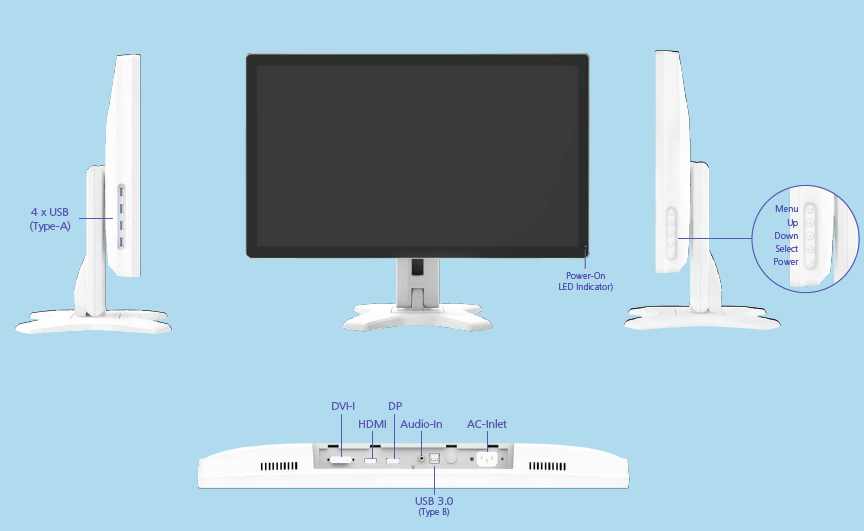 Convenient connectivity helps HCM-24 integrate easily into most medical equipment and devices.
The connectivity of HCM-24 provides major image signal interfaces for different medical devices and equipment: HDMI, DVI, and Digital Display. Beside the image signal interfaces, HCM-24 equips audio signal and up to 5 USB ports (including USB 3.0 Type C) for expansion or integration of different devices.
Through the integration capability and durable mechanical design, HCM-24 can act as a central terminal of many medical devices that are adapted in medical applications, such as medical carts, CT scan centers or medical laboratories.
HCM-24 integrated to medical devices for diagnosis
With technical expertise and innovation, TES provides reliable, high performance and high-quality medical display products for leading global medical customers. TES looks forward to working hand-in-hand with medical professionals to improve the medical technology progress and protect the health of the people.