TES Attended the Touch Technology Grand Event in Shenzhen: C-TOUCH & DISPLAY SHENZHEN & COMMERICIAL DISPLAY 2021
---
TES Attended the Touch Technology Grand Event in Shenzhen:
C-TOUCH & DISPLAY SHENZHEN & COMMERICIAL DISPLAY 2021
Oct, 19th-21th, 2021
Shenzen, a place gather cutting-edge touch technologies and products, this year the leading tradeshow of touch industry – C-Touch & Display SHENZHEN 2021 and COMMERICIAL DISPLAY 2021 was held from Oct.19-21.. Many professionals and leading companies participated in this Innovation and technology exhibition. TES shared attendees to experience the latest in touch technology, booth #1A48.
We are happy to attend this grand event and having opportunity to introduce our innovative products and variety of industrial interactive touch resolutions to the visitors.
TPMF-15, the open frame industrial touch screen monitor of TES, is equipped with the widely used 4:3 aspect ratio, 1024 x 768 high resolution LCD panel and P-CAP touch screen, has served in many industrial and commercial equipment worldwide, receives many attentions from systems integrators and come inquire about TPMF-15's reliability and easy-installation design for system integration.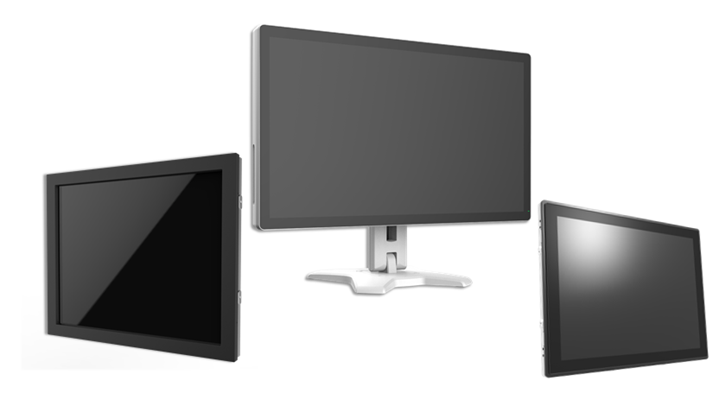 TSF-17 (Left), DT-238P (Middle) and TPMF-15 (Right)
TSF-17 series open frame touch screen monitor, designed for industrial applications, is one of our open frame product lines that provides Infra-Red touch models and P-Cap touch models to suit for respective industry application scenarios. Our team and visitors have discussion on the touch solution under specified environment.
The hot spot in TES's booth is the DT-238P series, a new medical touch monitor o MicroTouch- the Subsidiary Brand of TES. After TES acquired MicroTouch in 2020, within less than a year MicroTouch has launched variety of new products that meet various industrial and commercial applications. For medical markets,
MicroTouch and TES introduces DT-238P to respond the medical personnel's' request. DT-238P is equipped with a23.8 inches IPS LCD panels with the certification of DICOM medical image standard. That ensures DT-238P reproduce the high-quality color reproduction with details and correct medical images. The ergonomic mechanical design of DT-238P attracts the visitors' eyes and have fascinate impression of the easy-view angle-adjustment mechanical design as well as the fascinating connectivity of DT-238P.
TES Touch Embedded Solutions (Xiamen) Co., Ltd., is a JDM/ODM, global provider, of advanced touchscreen products, ranging from touch display modules to all-in-one multi-touch computer systems in industry and business fields. Offering a wide variety of touch technologies and products sizes from 7 inches to 86 inches with capabilities of tailoring solutions to fit unique customer applications.