MicroTouch participated in the RetailNow 2021 Trade Show in the United States
---
After the acquisition by TES in 2020, MicroTouch was reintroduced to the touch industry at the RetailNow 2021 Trade Show, July 25-27, in Nashville, TN. At this highly targeted industry event, MicroTouch introduced their line of retail touch monitors and all-in-one touch computers featuring industry leading capacitive technology.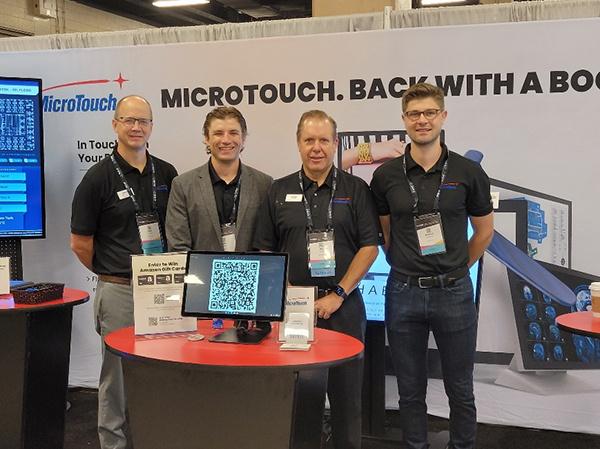 The representatives of MicroTouch at the booth of RetailNow 2021
(from left: Gene Halsey, VP Product and Business Development, Tyler Wells, NA Sales Manager, Bill Nulf, Vice President Channel Sales, Mitchell Wandell, Product Manager)
During the 3-day event, the MicroTouch team met with retail industry professionals, held in-depth product discussions with customers, re-engaged with channel partners, developed new relationships with complimentary vendors (software, printers, scanners, etc.), met with the press and generated sales leads. The MicroTouch name generated industry excitement, building on its legacy of thought leadership, that the brand was back offering customers promise for a strong partnership together. .
Combining the excellent design and the high-quality production process of TES, MicroTouch will continue to provide high-quality touch display products for global customers and the retail industry.
About Retail Now
RetailNow is a leading retail technology and industry exhibition and community that is organized by the Retail Solutions Providers Association (RSPA), the largest retail technology and industry association in North America.
The members of RSPA include retail, restaurants, stores and related vertical-integration providers of software and hardware; and global suppliers, distributors and value-added retailers worldwide.
After years of development and the participation of global players, RetailNow has become the number one professional technical forum and exhibition in the retail industry.

Date: 7/25-7/27
Location: Gaylord Opryland Resort & Convention Center, Nashville, USA
RSPA Official Website: https://www.gorspa.org/rspa-home/
About MicroTouch
Driven by a history and culture of innovation, touch technology is in our DNA. With nearly 40 years of thought leadership in interactive device development, we remain dedicated to providing our customers with unsurpassed touch solutions and service.
With our vast industry experience and factory-direct product, MicroTouch is back to the forefront of capacitive leadership. And now backed by TES, MicroTouch customers can expect to get a broad product mix of components, monitors and touch computers, with greater efficiency and flexibility through our regional engineering, local customer support and global warehousing.
MicroTouch was a product of the 80's, an industry icon that provided society with a glimpse into the future. Hollywood gave us the vision for touchscreens, thanks to TV hits like Knight Rider and Star Trek, and MicroTouch made it a reality. Now, entering a new age of technology, MicroTouch is back with a boom and will be paving the way with limitless possibilities.
MicroTouch Milestones
•1982: Founded
•1985: Capacity technology commercialized
•1992: 1st public touchscreen company
•2001: 3M acquired MicroTouch
•2020: TES acquired MicroTouch brand from 3M Touch Systems
Official Website: https://microtouch.com

About TES
TES Touch Embedded Solutions (Xiamen) Co., Ltd., is a JDM/ODM, global provider, of advanced touchscreen products, ranging from touch display modules to all-in-one multi-touch computer systems in industry and business fields. Offering a wide variety of touch technologies and products sizes from 7 inches to 86 inches with capabilities of tailoring solutions to fit unique customer applications.
Product utilized in hospitality, medical, financial, retail point-of-sale, industrial and more than a dozen years of experience in the development and manufacturing has formed a foundation of experience and knowledge capable of fulfilling your demand.
Official Website: https://www.tes-tec.com
Copyright © 2022 TES Touch Embedded Solutions (Xiamen) Co., Ltd.