Service is just between the "points" - public service self-service equipment
---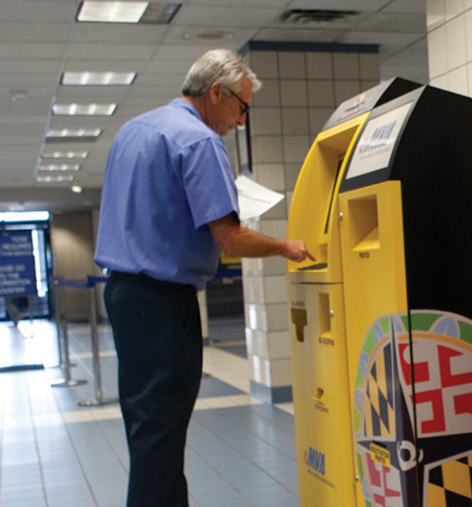 In recent years, with the rapid progress of the Internet of Things and network communication technology, the development of digitization, automation and visualization in the fields of industrial equipment and business services has been advancing rapidly, which has also affected consumption, finance, life, recreation, medical care and health. Among them, the interactive touch human-machine interface has penetrated into all levels and has become the most accepted, complete and universal service operation mode. leaf
In addition to retail, consumer, entertainment, industry and manufacturing industries, the technology of interactive touch operation also brings better and more convenient new options for public service equipment.
Guiding, diverting, and strengthening services - the advantages of self-service equipment in public services

In the most common fields of public services: government agencies, and various municipal and other public services, the first one that is exempt from inquiries is the service desk in the lobby - reception, guidance, and assistance for people to go to various places for handling, and matters to be handled. Explain. As the "front line" of service, the service staff in the halls of each agency are heavy in terms of personnel and workload.
Self-service equipment can provide fixed-point, real-time, uninterrupted guidance and service assistance, which has positive and effective advantages in reducing the burden of service personnel and improving service volume. Common application scenarios are as follows:

․ Floor guidance service
․ Service Process Explanation
․ ․ Identity Application/Authentication
․ Pay
․ ․ Appointment check-in (people flow management)
More comprehensive service coverage, self-service equipment can effectively improve service satisfaction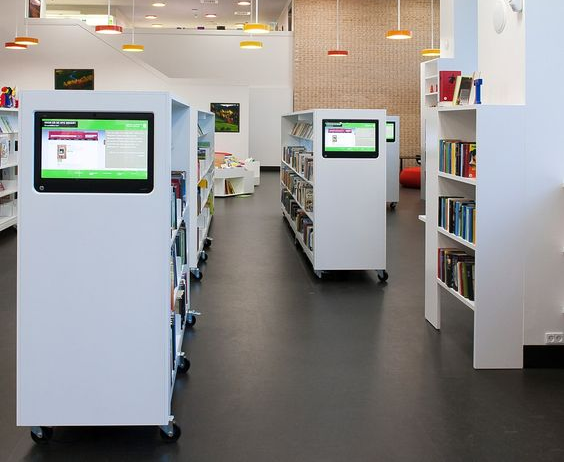 Self-service equipment commonly used in commercial places is more suitable for public services. The picture shows the KIOSK terminal equipment imported into the library for self-service bibliographic inquiry services.
Another advantage worth investing in self-service equipment is improving service efficiency and improving user service satisfaction. Waiting in line is a considerable cost for people waiting for service needs. For the staff, maintaining the order of the queuing crowd is even more of a heavy burden. The introduction of self-service devices can provide the following advantages
․ Disperse the queuing crowd
․ share the workload
․ Reduce hot spots where services are concentrated
․ Use Self-Service to Accelerate Service Case Completion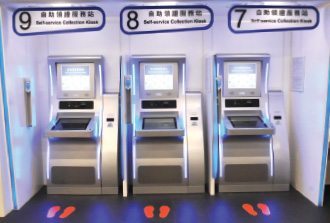 The service of certificate renewal through self-service equipment is not only convenient but also reduces the staff configuration
(source:https://www.csb.gov.hk/hkgcsb/csn/csn104/104e/close_up_2.html)
From outside to inside, deeply customized public service self-service equipment
Different from medium and large size self-service equipment mainly used for commercial sales, self-service equipment as a public service has the following characteristics
․ Highly customized: appearance, structural design, and even service content and processes are deeply customized
․ Various sizes: from small to large to suit service items and installation locations
․ Special specification interface: The information and power interface of some public services are specially designed
․ Special surface treatment: anti-scratch, anti-riot, anti-fingerprint, anti-glare and other screen surface treatment
․ Waterproof and dustproof treatment: outdoors, places with high temperature, high humidity, sun exposure, and even harsh environments such as low temperature
Children using interactive guided and interpretive services in a museum in a low-light environment
(Quoted from:https://www.loc.gov/loc/lcib/08012/detail/exhibit09.html)
With specialized professional manufacturing and vertical integration, TES Chenzhan Optoelectronics provides public service self-service touch device solutions. TES has cooperated with the world's leading companies, and there are more than 10 million interactive touch service devices designed and manufactured by TES, serving all over the world and in various fields.
TES Chenzhan Optoelectronics provides ODM/JDM integrated design and manufacturing services, providing professional consulting, design services, functional planning, electromechanical integration; and complete services from verification design, functional integration, production, quality management, and global product output; and through the system Manage global locations and service teams in Asia, Europe, and America, and continue to provide comprehensive after-sales service for cooperative corporate customers. With technical expertise and excellent quality, TES Chenzhan Optoelectronics is a public service self-service touch device solution provider, and continues to contribute to the infrastructure that serves the society.
Relevant cases
undefined